Wine investment portfolios
Wine Cellar has been trading in fine wine for two decades and is considered a leader in the SA market. Our dedicated team has experienced most local wines, both current and vintage, as well as a large portion of the world's greatest wines.
There are some incredible SA wines from the 20th century as each decade pushed wine quality and increased the size of the local fine wine market. Where good bottles can be found, vintage wines offer a snapshot of the Cape's potential; highlighted by wines like the GS 1966.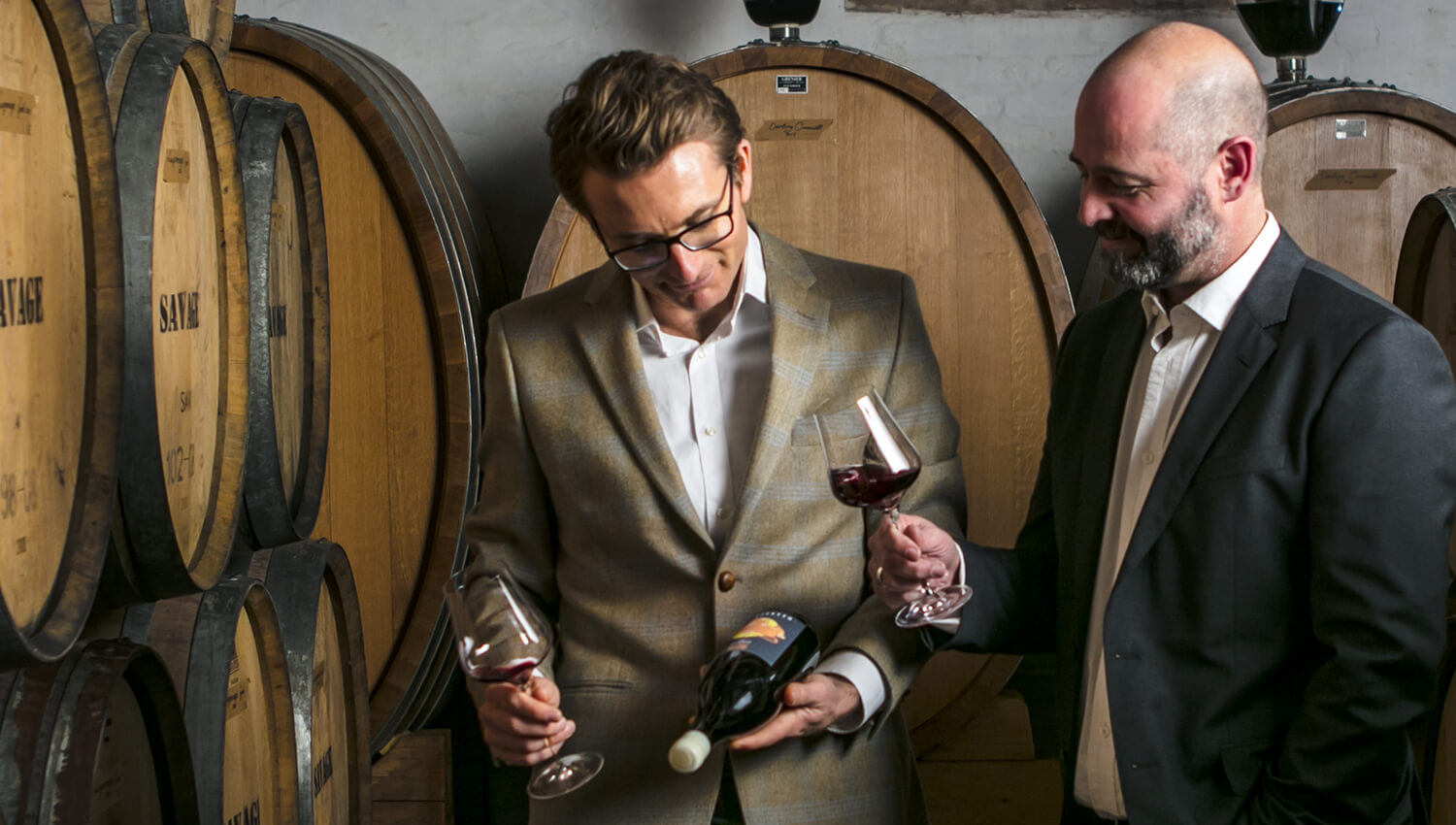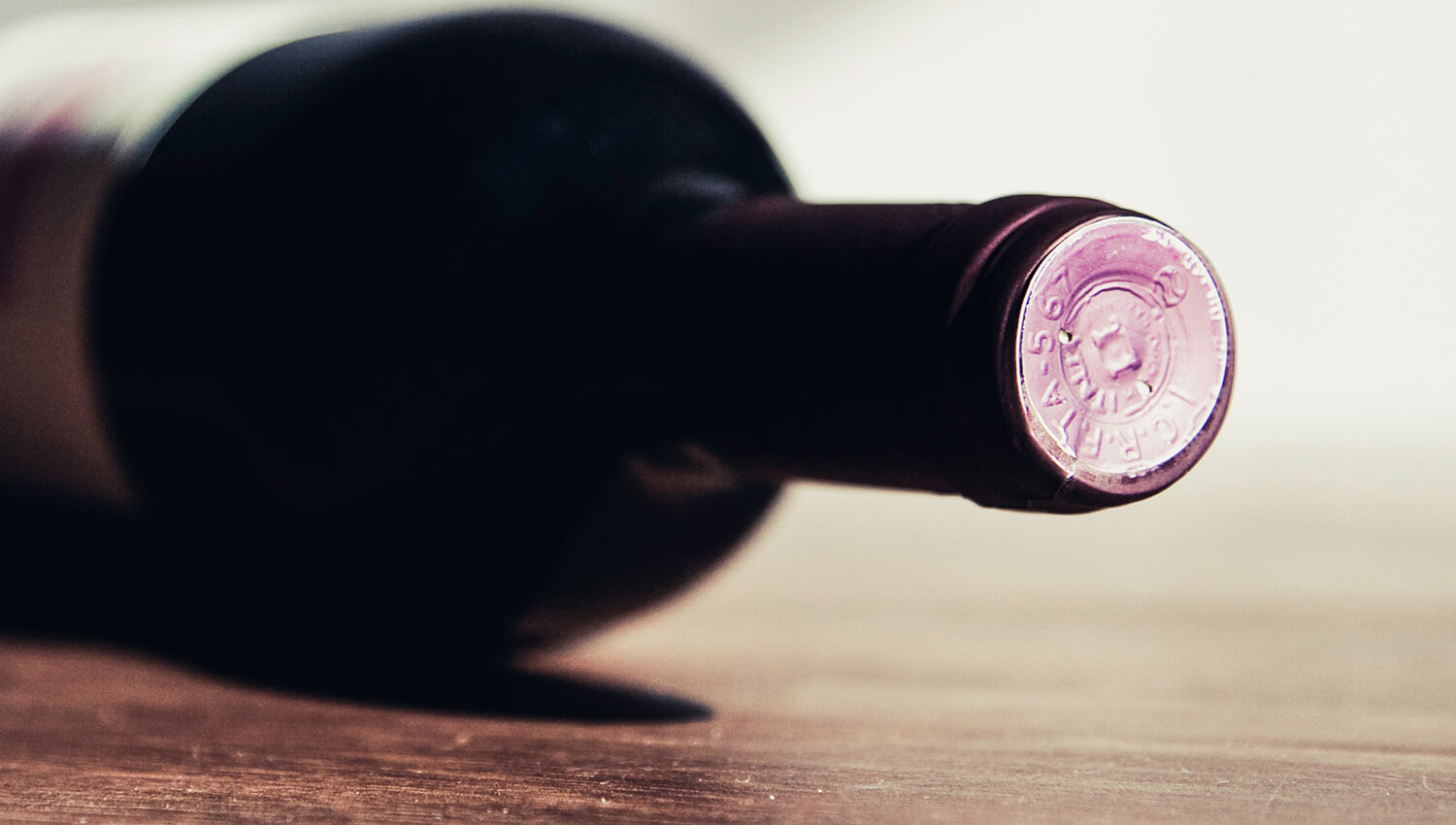 The last decade has been the most exciting, however. Although the area under vine is decreasing, there has been an explosion of fine wines at premium prices. Demand continues to rise as SA wines are repositioned in the global hierarchy. In general terms, SA fine wines are the least expensive world-wide and offer serious potential for price growth.
While we have been professionally storing wines in our underground cellars since 2001, we focus on recent vintages for investment. We also trade in older-vintage SA wines, see our brokerage list, and make every effort to offer only well-stored bottles to the market.
Our investment portfolios
Aim to capture the most investable and fine South African wines at the lowest cost.
Each portfolio is a unitised collection of investment wine within a certain category.
Include a period of free cellaring – thereafter normal cellaring rates apply.
Our fine wine team also offers broad investment advice on local and international wines.
On-going
PIP – Personal Investment Portfolio
May 2022 · Coming soon
The PIP is a personalised, unitised wine investment portfolio based on the same principals as VIP, CIP and AIP. However, the PIPs are offered on a month-to-month basis and subject to available stock on the market.
South African fine wine saw another strong year in 2021. New records were set in the fine wine auction space, and the proliferation of wine auctions from various auctioneer houses bears testament to the growing demand for curated, high-value fine wine listings. In international markets, fine wine continued its strong run with broader trade across regions and vintages. Download our secondary market review 2021 for a more in-depth commentary. Please contact Johan to sign-up to our investment newsletter.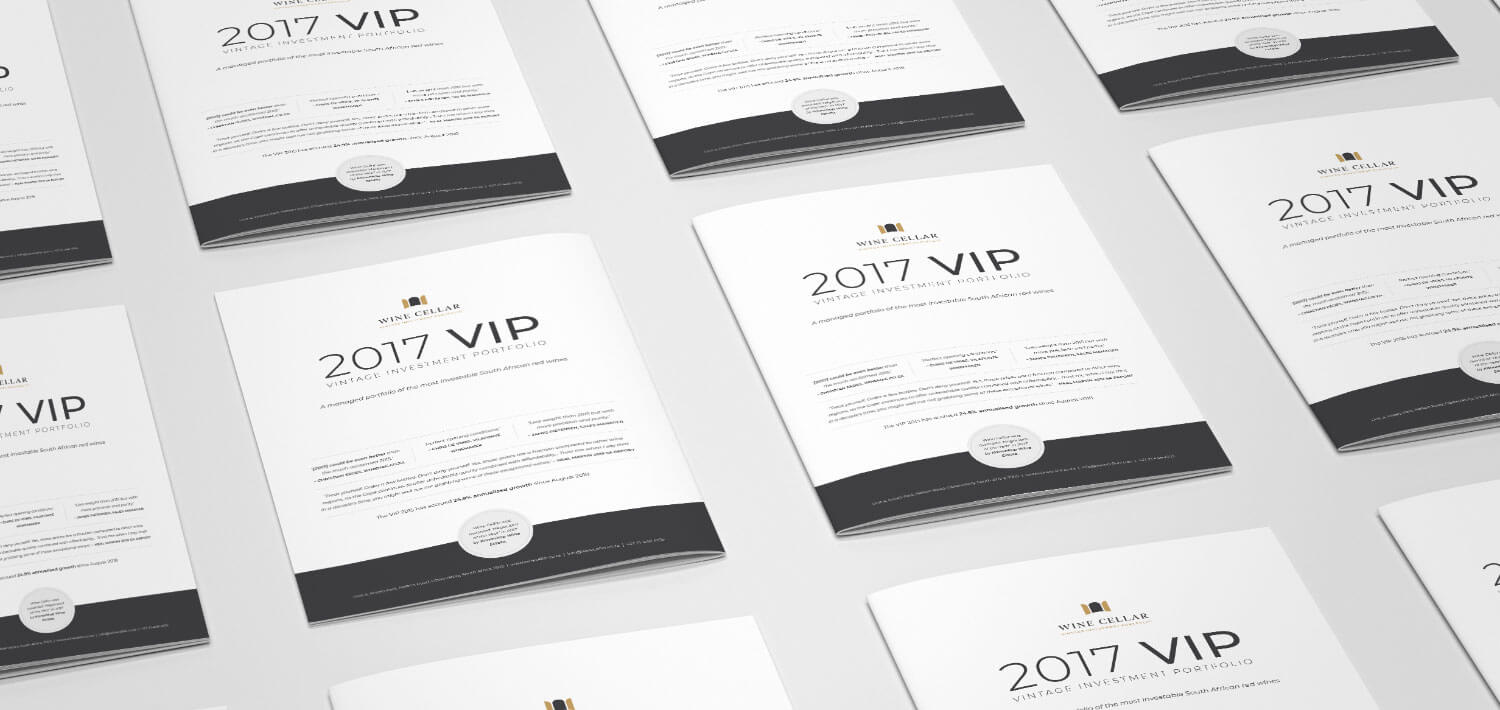 VIP 2017 – Sold Out
The Vintage Investment Portfolio 2017 is a diversified, blue-chip portfolio of 26 of the finest and most investable South African wines from the great 2017 vintage, unitised into 60 identical R100,000 portfolios.
Find out more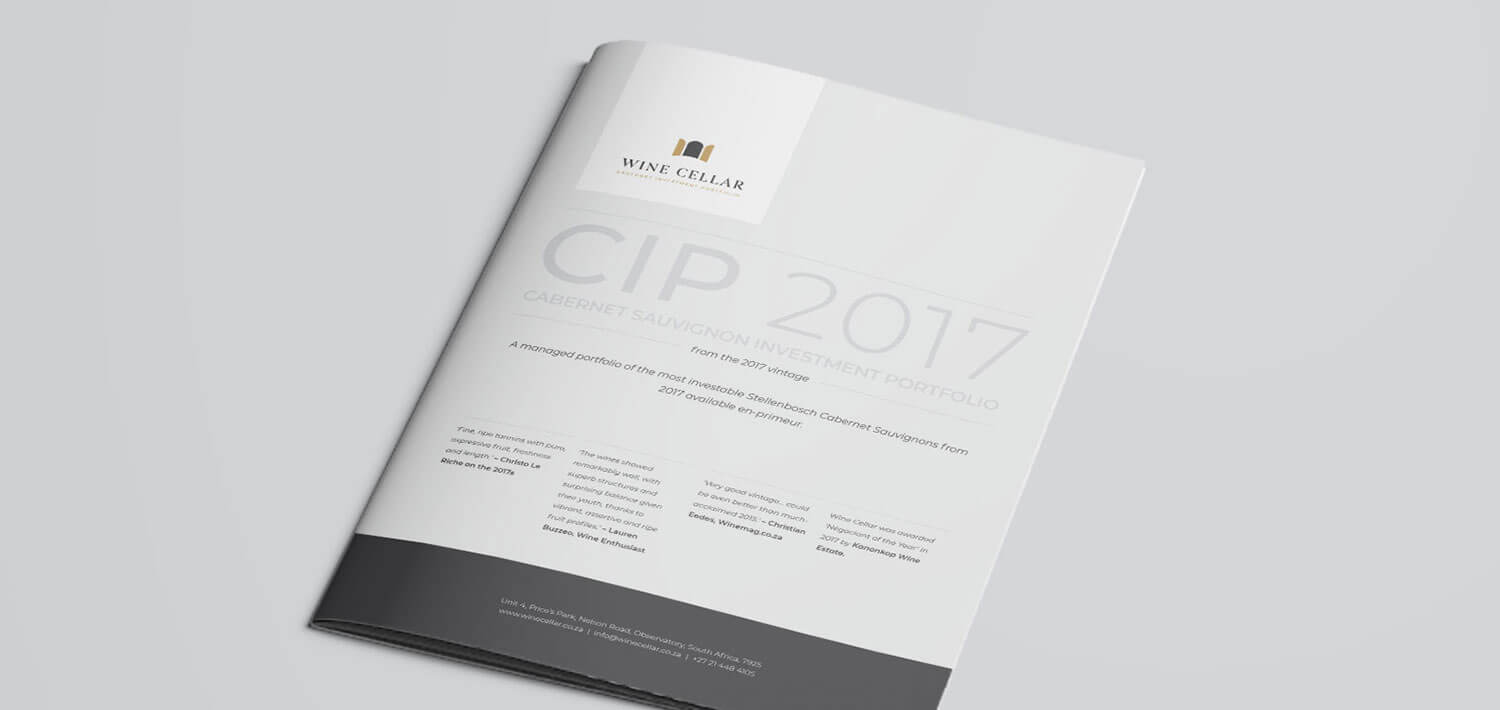 CIP 2017 – Sold Out
Seven blue-chip Stellenbosch Cabernet Sauvignons, with the lowest relative prices, were included in this en-primeur investment portfolio. Buying CIP 2017 en-primeur saves 19% on the estimated release prices.
Find out more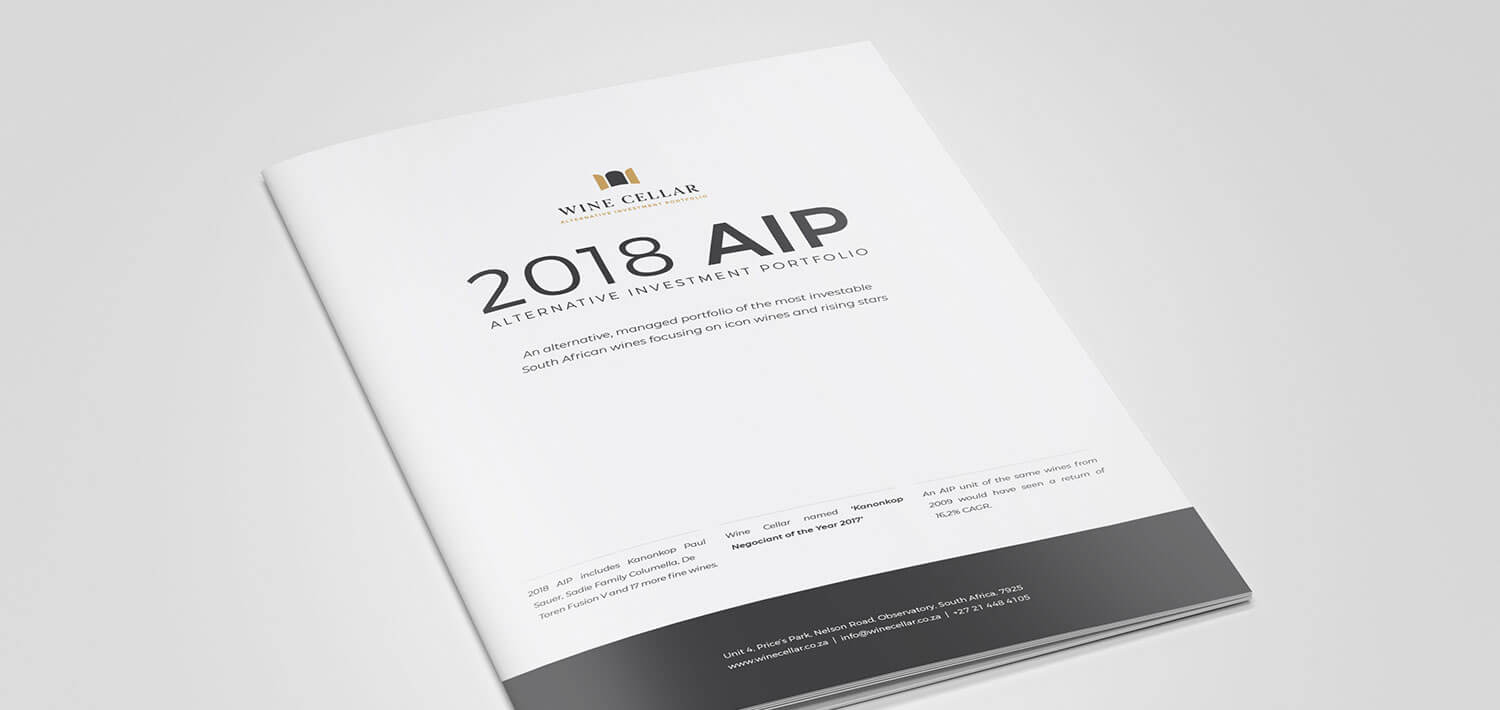 2018 AIP – Sold Out
The 2018 Alternative Investment Portfolio is a more alternative basket and holds icon wines as well as rising stars from 2015 to 2017.
Find out more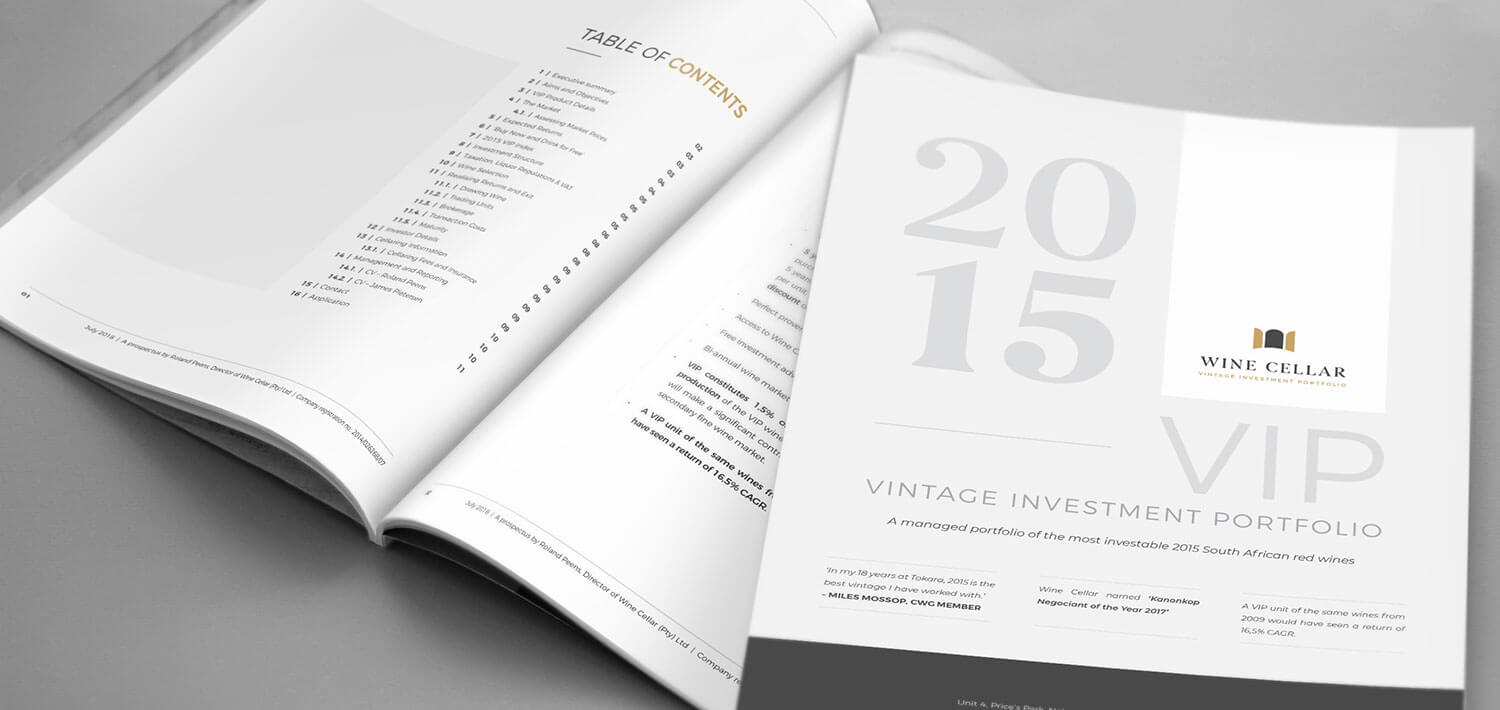 VIP 2015 – Sold Out
The Vintage Investment Portfolio 2015 is a basket of the most investable, long-ageing reds from the benchmark 2015 vintage.
Find out more
Current Indices
VIP 2017
117.8
(Base January 2020)
CIP 2017
119.5
(Base April 2019)
2018 AIP
160.2
(Base November 2018)
VIP 2015
150.2
(Base August 2018)
Wine Cellar Investment Team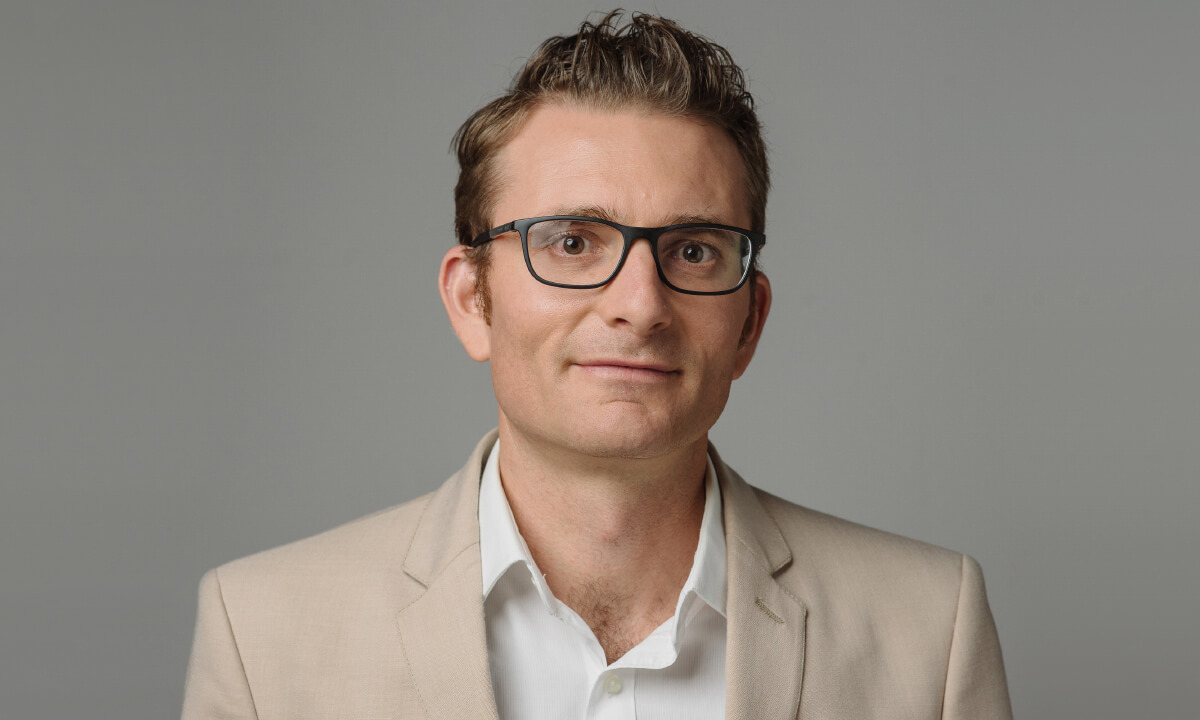 Roland Peens
Shareholder
With a BCom in Economics from Stellenbosch University, Roland joined Wine Cellar as the Director in 2005. Having traded Grand Cru Bordeaux for 15 years, he has tasted and sold many of the world's finest wines. With international experience and an entrepreneurial spirit, Roland continues to believe in the future of SA wine.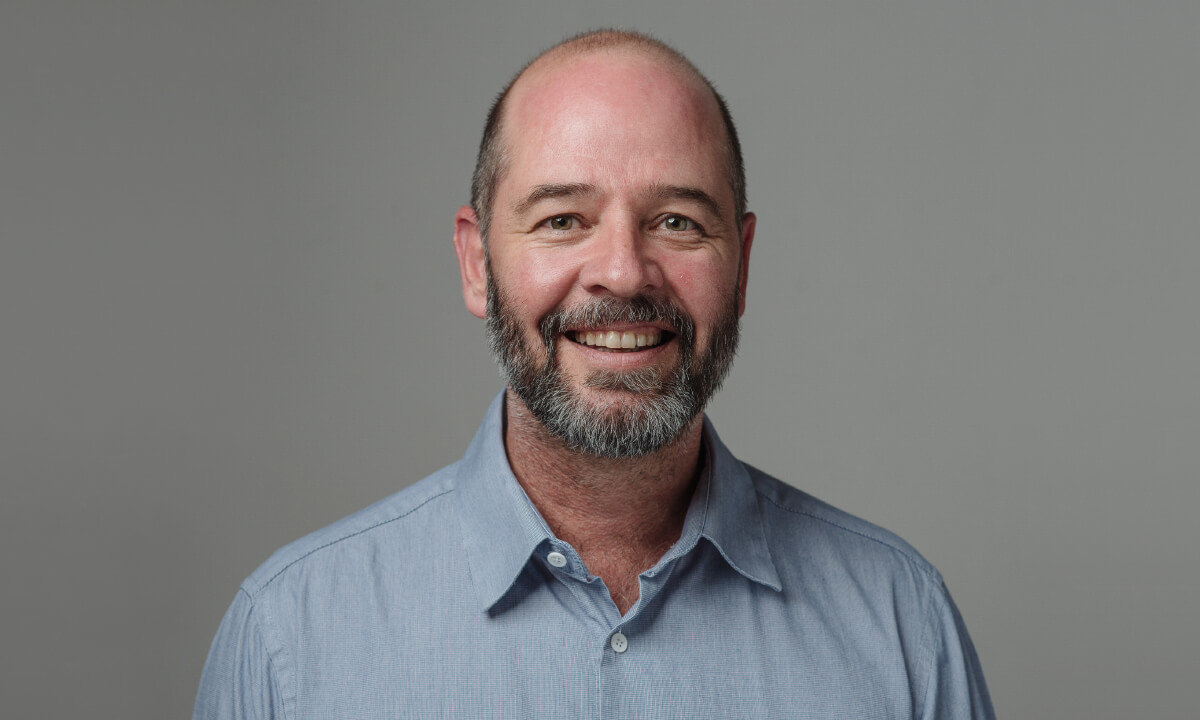 James Pietersen
CEO
James studied law at the University of Stellenbosch and has 25 years of experience in the SA wine industry. In 2015, James joined Wine Cellar as Sales Manager. As one of the leading wine tasters and wine judges in SA, few pundits taste more wines than James.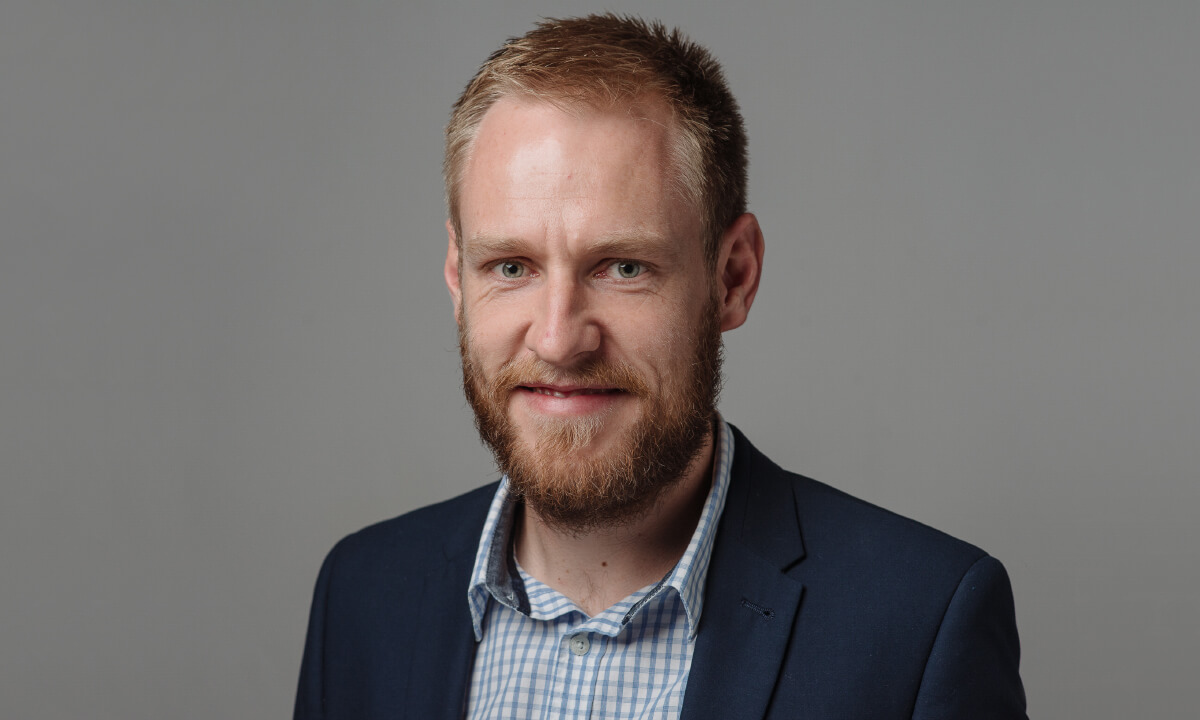 Johan Malan
Brokerage and Investments
Johan holds a MCom in International Trade from North West University's School of Economics. Johan has experience in the international fruit trade while trading in fine SA wines as a hobby. In 2018, Johan joined Wine Cellar to manage and grow Wine Cellar's investment and brokerage business.
FAQ
What is a Wine Cellar investment portfolio?
A unitised collection of the finest and most investable wines within a specific category.
Each portfolio is managed by the fine wine team and professionally cellared at no charge until maturity.
We believe this structure attracts the least costs and offers the highest opportunity for returns.
Which wines are selected for the portfolios?
We select each wine for its propensity for price growth over time.
Each wine must hold a fine wine track record and have the ability to age at least a decade.
Do I own the physical wines?
Yes, the investment portfolios unitise your investment.
You are not buying shares or into a fund.
Can I rather drink the wines?
Yes, but if you withdraw the wines before maturity you effectively lose the free cellaring.
Where are the wines stored?
In our temperature-controlled, underground cellars in Observatory and Maitland.
We manage 300,000 bottles for 800 customers.
How do I know the value?
We update the market prices every quarter and track an overall index of each portfolio.
How do I sell my investment?
At any time you are able to broker your investment or sell it privately.
Portfolios can be brokered through Wine Cellar in their entirety with a 5.75% brokerage fee.
Wines within each portfolio can be brokered individually at 11.5%.
Wine Cellar has been brokering customers wines since 2001 and liquidity is steadily growing each year.
What happens after maturity?
The wines can be brokered, withdrawn or cellared further at our standard cellaring rates.