A Wine Cellar guide to Australian wines
Australia is home to a vast array of amazing and diverse climates. The wines produced across the country reflect each of their region's distinct and unique characteristics, making the wines from Australia a true discovery of terroirs.
Vines first arrived in 1788 on board the First Fleet. In 1831, Australia's wine pioneer James Busby went to Europe to source new varieties and bring them back to Australia. Of the 650 grape varieties, only 362 survived the journey across the sea and were planted in Sydney, Hunter Valley, New South Wales, Victoria and South Australia. Today, many of the county's old vines can trace their history all the way back to this original Busby collection.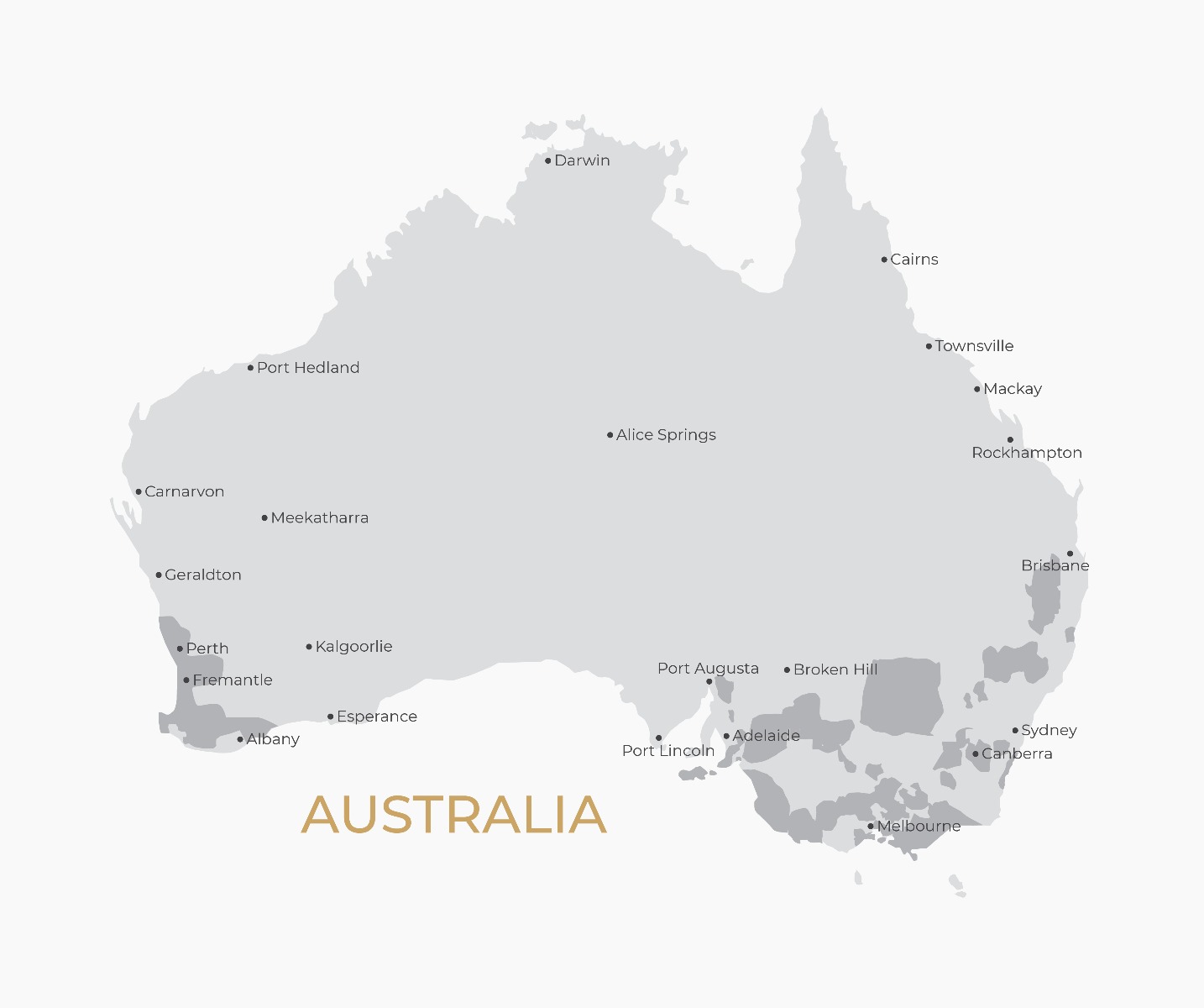 Recently there has been a marked interest in Mediterranean varieties and Australia is now seeing more plantings of varieties such as Vermentino, Sangiovese and Touriga Nacional. With over 100 different grape varieties being grown in Australia, these are the most common and important:

Common white varieties
Riesling, Chardonnay, Sémillon, Sauvignon Blanc and Muscat
Common red varieties
Cabernet Sauvignon, Pinot Noir, Grenache and Shiraz/Syrah
Australian Wine Regions
New South Wales:
This area, which surrounds Sydney, is the oldest grape growing region in Australia. A few miles from Adelaide is the Barossa Valley region, one of South Australia's most prestigious growing areas. Unique in the fact that Phylloxera has not yet reached vineyard soils, Barossa has some of the oldest living vineyards in the world. Barossa Valley is flanked by 2 regions famous for white wine — Clare Valley, which produces opulent Rieslings, and Eden Valley, known for its dry and mineral Rieslings.
Queensland:
Queensland was not known as a vineyard growing region until relatively recently as it was thought to be too near the tropics to produce quality wines. A few astute winemakers noted that the higher altitudes of the inland mountain ranges had rich volcanic soils and, if planted high enough, varieties like Cabernet Sauvignon and Chardonnay could produce stunning wines in the Queensland climate.
South Australia:
South Australia is the most prolific region in Australia. It is responsible for as much as half of the country's annual wine production. Home to some of the most well-known estates and old vineyards, its strength lies in its geography. Dissected by the Murray River, the vineyards of this arid region are supplied with crucial irrigation water and with its abundance of different soil types, ideal altitude and cooling sea breezes, South Australia boasts a wide range of wine styles.
Tasmania:
The first commercial vineyards were planted in 1865 on the island state of Tasmania; just off the southern coast of Australia. Chardonnay and Pinot Noir do particularly well in Tasmania's cool climate, making it home to some of Australia's most renowned sparkling wines.
Victoria:
Although the second smallest state in Australia, Victoria has more individual wineries than any other. The diversity of its regional climate makes it possible to produce almost every style of wine from sparkling wine and Pinot Noir, to Shiraz and sweet, fortified wines.
Western Australia:
Western Australia is the largest state and spans the entire western third of the continent. The winemaking regions are concentrated in the south-west and great southern land divisions.
Henschke, New South Wales region
Henschke, New South Wales region
Did you know?
Pinotage is a South African-born variety. It was created in the 1920s by crossing Pinot Noir and Cinsaut and has given rise to the Cape Blend, which is generally made from Bordeaux varieties along with a small percentage of Pinotage.