Thorne & Daughters' 2020 releases
Thorne & Daughters' 2020 releases
Newly-released Rocking Horse is a modern classic
The Rocking Horse Cape White from Thorne & Daughters is now firmly established as one of the finest Cape white blends. Along with its sibling, the Wanderer's Heart Cape Red, the newly-released 2020s are more precise and wonderfully balanced. There is an all-round sense of calm accomplishment to this set of releases.
Both the Rocking Horse and Wanderer's Heart offer immense value, especially when considering the price of other signature blends. These finely-crafted cuvées highlight John Seccombe's astute fine wine vision and at a fair price point to boot!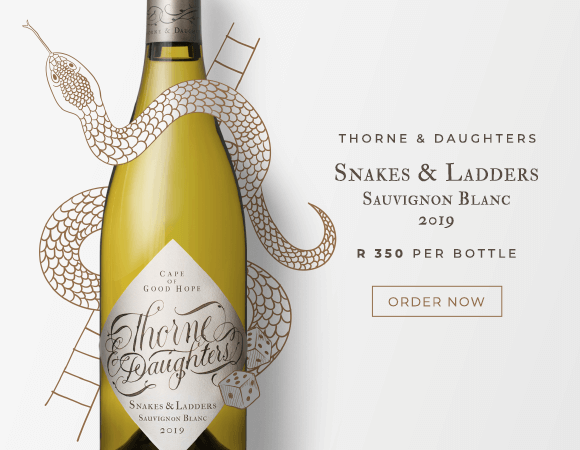 Working with various heritage vineyards, the Rocking Horse is a multi-vineyard, multi-variety blend that takes its aesthetic from white Burgundy rather than the Rhône; as John prefers refinement over weight. The 2020 is stunning with poised aromas and a deliciously dry, savoury palate.
The 2020 Wanderer's Heart calls for a bit of time in the cellar; like the 2019. More structured, it is built around Grenache and Mourvèdre with some Syrah added to flesh it out. There's no loss of freshness and it offers both drinkability and complexity with fine, detailed tannins. It's a delicious and refined red.
The 2020 Tin Soldier Sémillon (Gris) has a strong following and continues to be one of my favourite orange wines. This skin-contact, unfiltered, unfined, raised-in-old-oak gem is so complex that almost every sip changes in the glass. It is fascinating and intriguing in the best possible way. Get some!
For followers of the Paper Kite Old Vine Sémillon, the 2020 will need some time for its texture and palate weight to meld. However, this small-batch cuvée is one of the most unique interpretations of Sémillon.
'From a Skurfberg Sauvignon Blanc vineyard,' writes Christian Eedes, the Snakes & Ladders Sauvignon Blanc is 'an extravagant rendition of the variety.' The 2020 release has a shy nose and creamy, textured palate. It is one of the most exciting takes on local Sauvignon Blanc and continues to impress us – there is nothing else like it. The fruit is from a special terroir, high up on the Citrusdal Mountain, that is home to the likes of Alheit's Makstok and Huilkrans, Botanica's Mary Delany, and the Sadie Family's Skurfberg.