Bookended on the one side by the very impressive Vinum Chenin Blanc 2021, Christian Eedes writes how it is 'perfectly styled in the sense of being not too geeky nor too conventional'. Planted in 1969, the Renaissance Chenin vineyard forms the backbone of this release and the pedigree is immediately evident.
The Chenin is joined by the Vinum Chardonnay 2021. Again, it's made using fruit that used to go into the much-lauded (and much pricier) Radford Dale Chardonnay. It shows 'keen lemony fruit with a twist of pithiness and a tapering stony finish' notes Jamie Goode (92/100). It delights with an array of fruit at only 12.5% alc.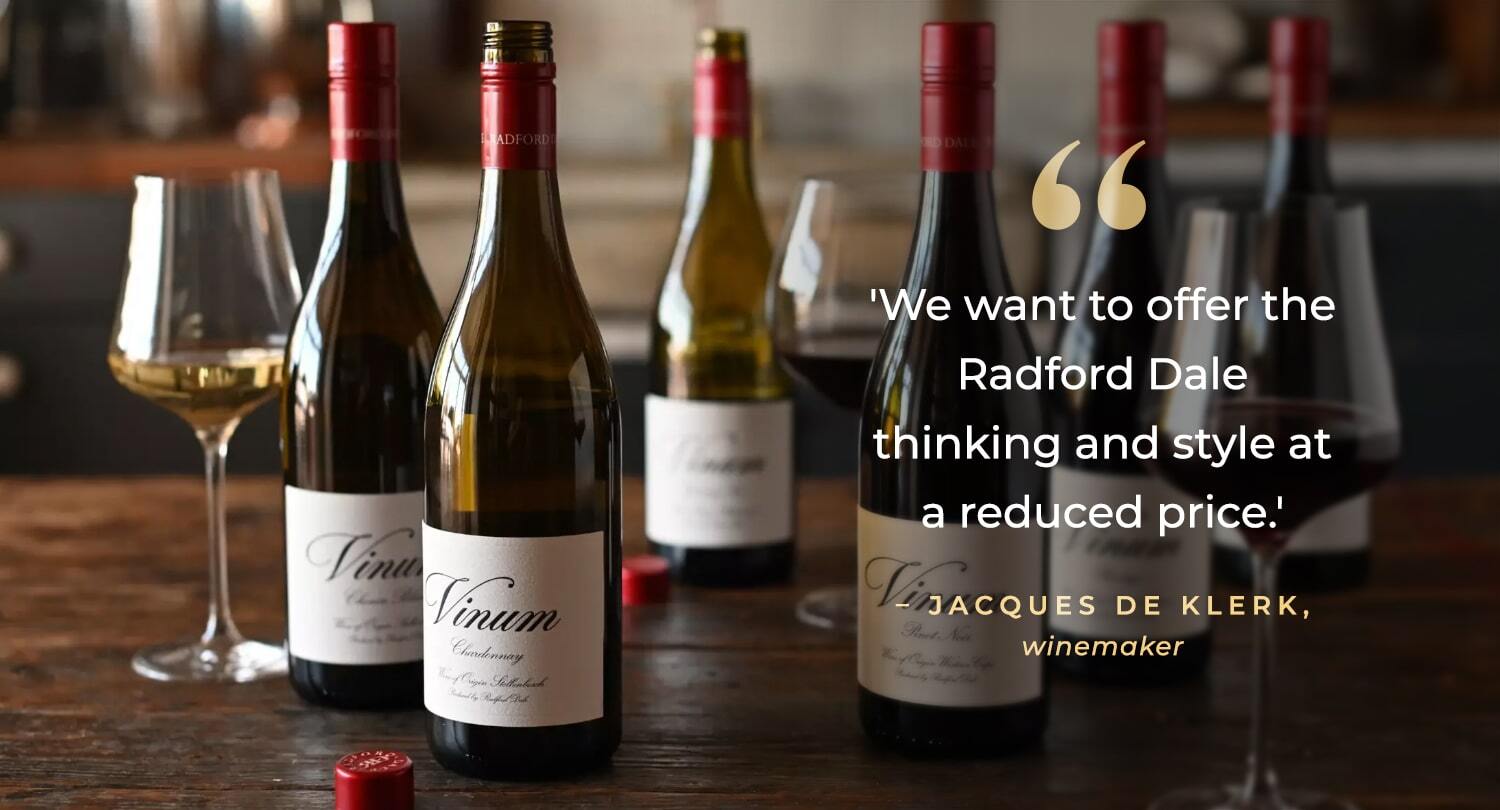 The theme continues with a fine thread of freshness, dry tannins and perfectly weighted fruit on their set of four reds. The Vinum Gamay Noir 2021 is subtle, delivering reined-in fruit with lots of detail. With less than 10 ha planted in SA, Gamay is still a rarity but this wine proves just how promising local cultivation is.
The Vinum Pinot Noir 2021 follows with a 'mouth-watering persistence' writes Julia Harding MW, and 'massive drinkability and nice freshness' adds Jamie Goode (93/100).
Christian Eedes's pick of the bunch is the Vinum Grenache 2021. Scoring it 93/100, he notes the 'good fruit definition, snappy acidity and powdery tannins', saying how it's 'an elegant and refined wine with both detail and poise'. There is so much to like here – it's a wonderful rendition of modern Grenache.
To complete the cycle is SA's very own grape. The Vinum Pinotage 2021 is made from Stellenbosch fruit and, like the Chenin above, has been made before. 'What an achievement to get this much flavour and balance at just 11.5% alcohol,' writes Julia Harding MW, 'way to go.' It is a great interpretation of what Pinotage can be – delicious, dry, and refreshing.