A Wine Cellar guide to Portugal wines
Portugal is often referred to as the last frontier of wine in Western Europe. It has become one of the most popular winemaking regions in Europe. With over 800 years of rich history and tradition, as well as the amazing value that can be found, it is not hard to see why.
The region's wine culture developed in relative isolation resulting in a variety of grape cultivars not grown anywhere else in the world. The country is home to over 250 indigenous varieties.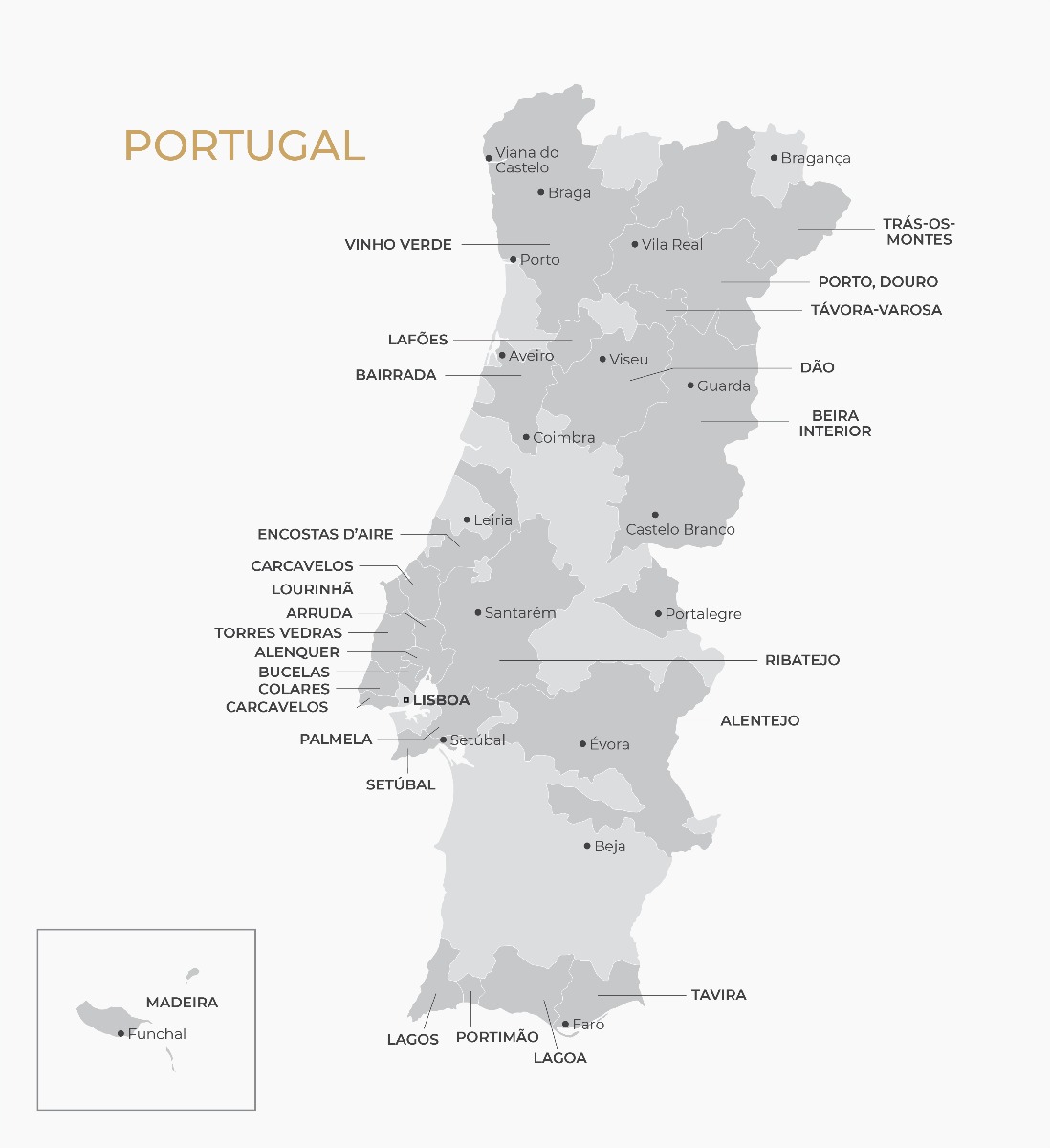 Common white varieties
Palomino, Pedro Ximénez and Moscatel (Muscat of Alexandria)
Common red varieties
Palomino, Pedro Ximénez and Moscatel (Muscat of Alexandria)
Classification
In Portugal, wines are rated according to their level of quality and each region is managed by a Comissao Vitivinivola Regional (CVR). The CVR supervises quality control to maintain high standards and ensure that each region's individual character remains unchanged. The classification can be identified by the label and are as listed below.
Denominacao De Origem Controlada (DOC)
This level of quality means that the wine comes from a strictly defined geographical region with permitted grapes varieties and maximum vine yields. There are 31 DOCs currently operating in Portugal.
Vinho Regional (IGP)
Portugal is currently divided into 14 regional sections known as the 'Vingo Regionals'. These regions have less rules around controlling which cultivars can be used. This has attracted many creative pioneers looking to create a vintage or blend that would not be allowed in the stricter DOC regions.
Vinho
This is the most basic classification given. You will struggle to source these wines outside of Portugal.
Key Regions
Douro
The Douro is known as the oldest wine region in the world. The hills along the Douro River have been worked by hand into terraced steps, allegedly, since the time of Christ. This area, located about 90km outside of Porto, is so beautiful and impressive that UNESCO made it a World Heritage Site. The Douro is also the birth place of Port and has previously served as the main representative for Portuguese wines. However, as of the last decade, more dry wines are emerging and have helped Douro achieve worldwide recognition.
Vinho Verde
Situated in the coastal region of north-west Portugal. Vinho Verde is the largest wine region in Portugal and produces approximately 85 million litres per year. The wines here are known to be low in alcohol and bursting with flavours of lime and peach making them a great match for seafood. You will struggle to find oak-ageing in this region. The wines have a crisp acidity levels and should be drunk cold and relatively young.
Alentejo
Alentejo is a massive region in central Portugal, closely resembling California, known for its miles of cork tree plantations. Only 5% of the land is planted with grapes vines. The grapes are known for their exposure to lots of sunlight resulting in riper grapes with higher alcohol levels and full-bodied wines. White wines from Alentejo are generally mild and slightly acidic with aromas of wild fruit. Whilst the reds are full-bodied with rich in tannins and wild berry aromas.
Lisoboa
Lisoboa is one of the most innovative and dynamic winemaking region in Portugal. It is located in a small area running north from the capital city, Lisbon, towards the coast. It is important to note that the area used to be called Estremadura as the name may still appear on older vintages. Whilst this region has not had as much international exposure as some of the others, it is still expected to have an international breakout story shortly. While still relatively unknown, it offers very affordable wines perfect for everyday drinking.
The Douro Valley is known as the birthplace or the fortified red wine, Port, but it is now made throughout Portugal. Today, the Port winemaking style is copied around the world. It is commonly known as a red dessert wine due to its sweet, rich taste with typical flavours of cinnamon, blackberry, caramel, raspberry and even hints of chocolate. Port should be served just below room temperature and pairs perfectly with rich cheeses, nuts and chocolate desserts.
What makes Port unique is the blend of indigenous grapes used to produce it. A combination of 52 varieties, including Touriga Nacional, Tinta Roriz, Touriga Nacional and Tinta Barroca are allowed to be used when making Port.

Did you know?
Pinotage is a South African-born variety. It was created in the 1920s by crossing Pinot Noir and Cinsaut and has given rise to the Cape Blend, which is generally made from Bordeaux varieties along with a small percentage of Pinotage.