A Wine Cellar guide to Bordeaux wines
Bordeaux is arguably the most important wine-producing region on the planet and makes some of the world's most sought-after fine wines. The region has a moderate maritime climate, with fewer variations in temperature than continental climates. The humidity and mists associated with a maritime climate can make fruit susceptible to rot, however these conditions are favourable if winemakers wish to produce the sweet botrytised wines of Sauternes. Bordeaux's soils largely consist of gravel with clay and limestone.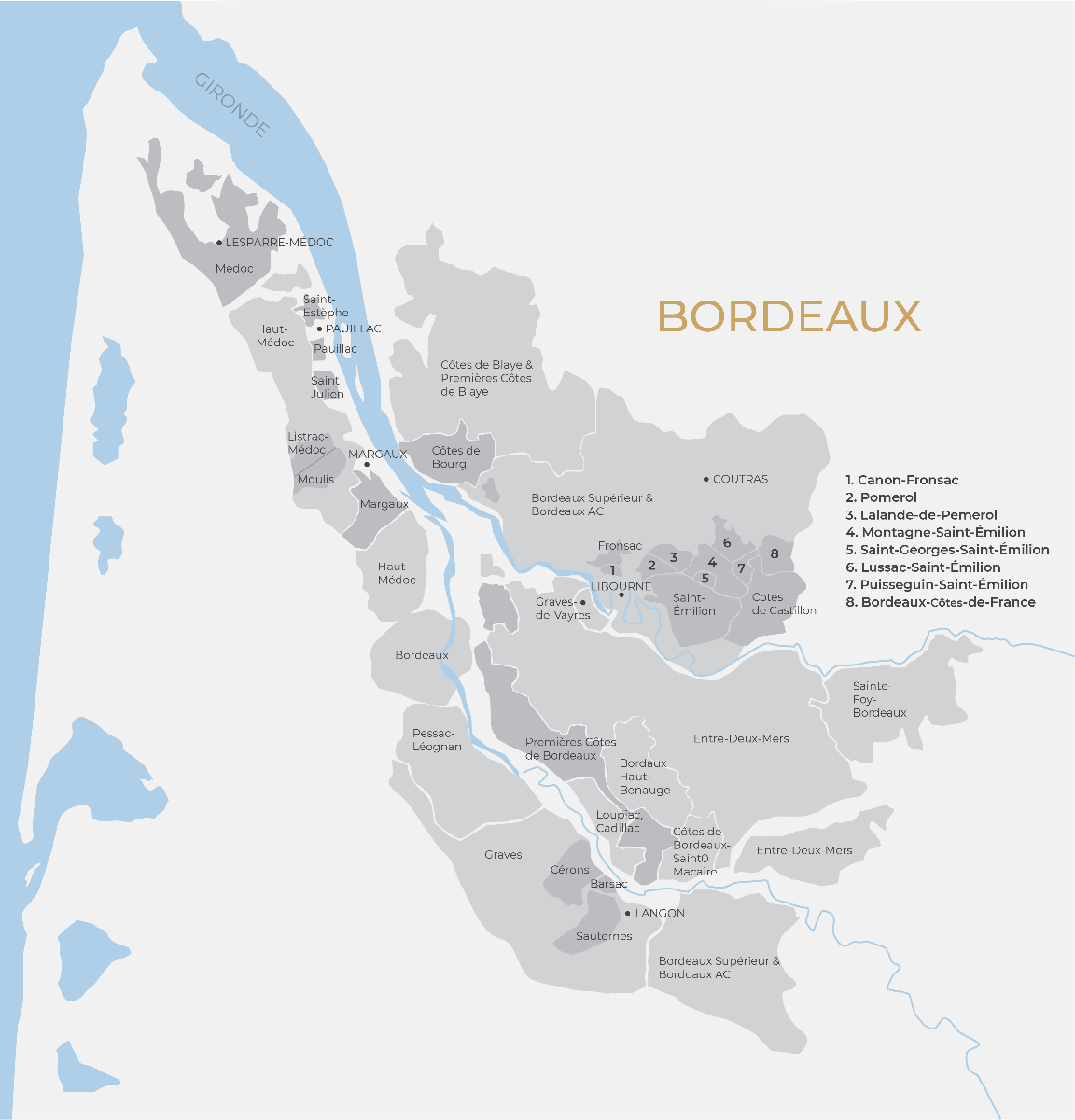 Permitted white varieties
Sauvignon Blanc, Sémillon, Muscadelle and Sauvignon Gris
Permitted red varieties
Cabernet Sauvignon, Merlot, Petit Verdot, Malbec, Cabernet Franc and Carménère (which has become extremely rare)
Did you know?
Bordeaux has a viticultural area four times the size of Burgundy. It is divided into 57 appellations and is home to more than 10,000 producers.
The wines of Bordeaux
The wines of Bordeaux are ranked according to the reputation of individual châteaux. The most well-known Bordeaux classification is that of 1855, which placed châteaux on the left bank of the Gironde River into five tiers.
The most highly-ranked wines in this classification are Château Lafite Rothschild, Latour, Haut-Brion, Margaux and Mouton Rothschild (which was promoted in 1975). Whilst the towering prices of these wines often reflect their ranking and renown, there is plenty of value to be found in the lower ranks of Bordeaux.
Bordeaux reds
The region's best reds are characterised by dark, rich black fruit, tobacco and earthy flavours, with high tannins and extraordinary longevity. As they age, the tannins soften, tertiary characters develop and the wines become more accessible.
Bordeaux whites
The white wines of Bordeaux are rich, round and savoury with notes of figs, nuts and green-spectrum fruits. The very best white wines come from the sandier soils of Graves AC.
Sweet Bordeaux
Bordeaux is also renowned for the sweet wines of Sauternes and Barsac. These botrytised wines are generally produced from Sémillon (and a small percentage of Sauvignon Blanc) and exhibit notes of apricot, honey and almonds with floral complexity and high acidity.
Did you know?
Pinotage is a South African-born variety. It was created in the 1920s by crossing Pinot Noir and Cinsaut and has given rise to the Cape Blend, which is generally made from Bordeaux varieties along with a small percentage of Pinotage.